---
Experience a Difference You Can See & Feel
We're committed to the highest quality experience & results imaginable. Our estheticians are European trained and have extensive training in extractions and personalized skincare needs. Here you get the expertise and customization that only our caliber can deliver. If you are seeking the utmost quality of skin care service at competitive prices, this is the place for you.Whether you want a wax, acne treatment, facial, skin peel, or other beauty / wellness service, at our clinic you will feel totally at ease. We are proud to offer a serene, sanitary and private environment. Feel free to call with any questions or to make an appointment for a free consultation. Come see & experience the difference in quality of service. You will quickly see why over 90% of our new clients are from referrals!
Our Mission
Our driving passion is to help you look and feel as amazing as you deserve. As the world around us continues to place environmental and emotional strain on our bodies, we strive to be a healing oasis for beauty inside out. We want every person to come experience what is possible for your skin -- and for yourself -- with our care.
Selections
We are proud to offer a variety of luxury skin care options customized for you.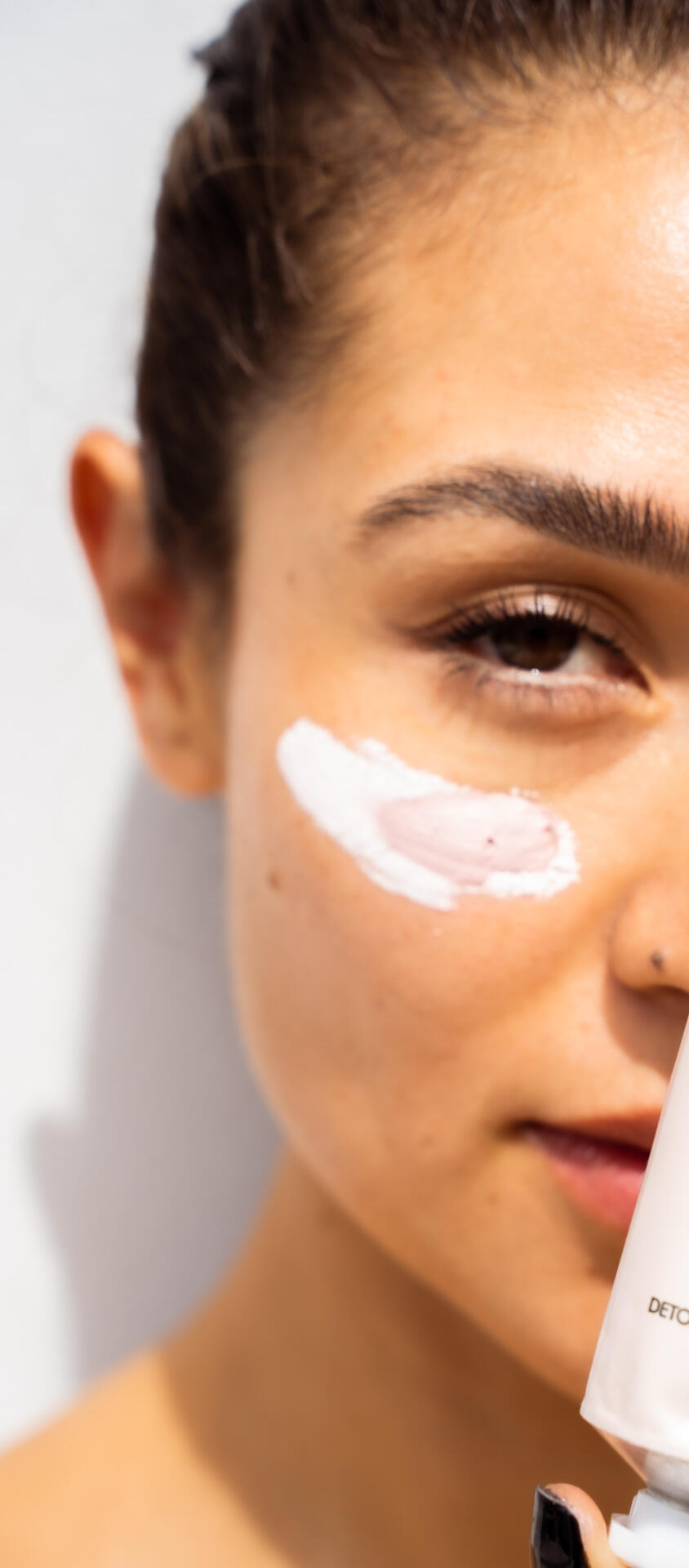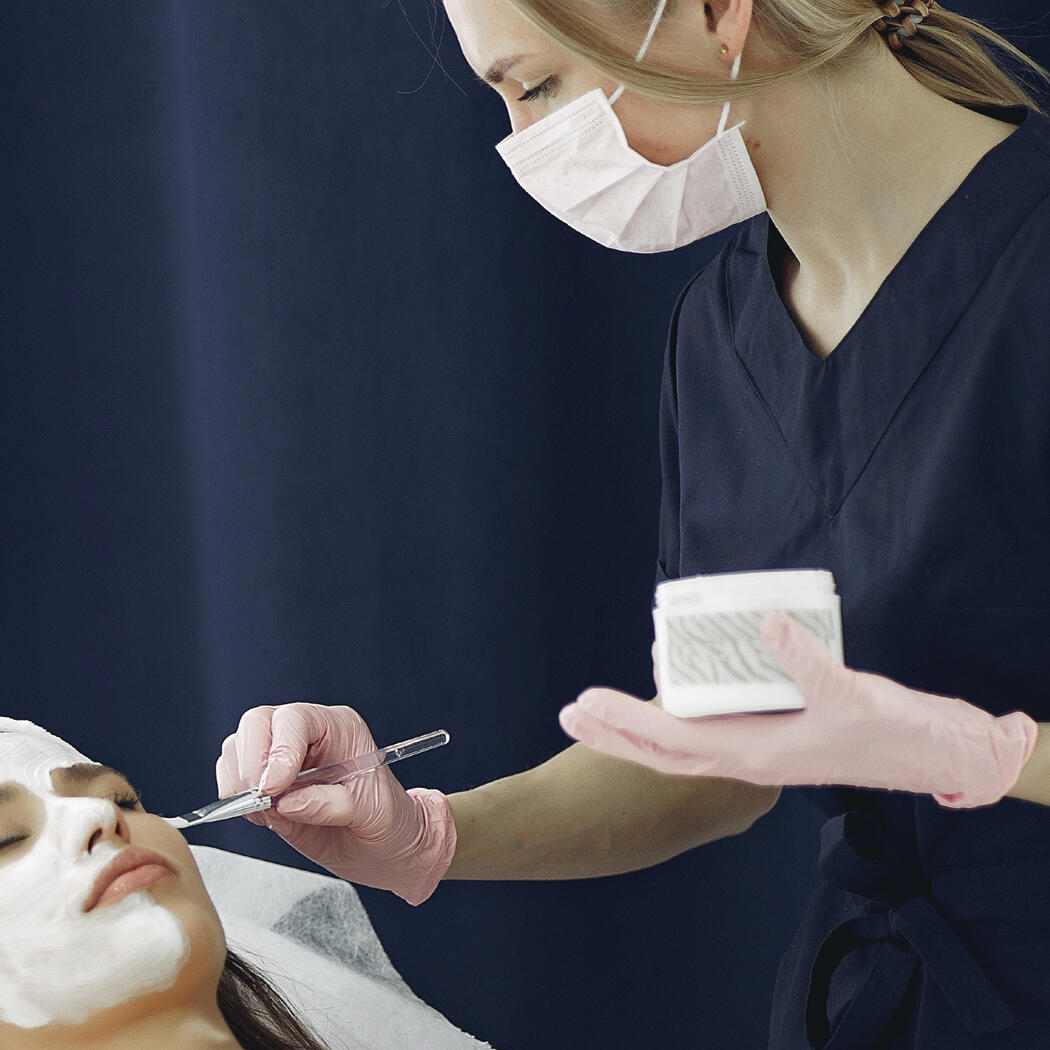 What We Are Doing to Protect You
We are passionate about taking to utmost precautions to protect our clients and ourselves in all capacities.
Facials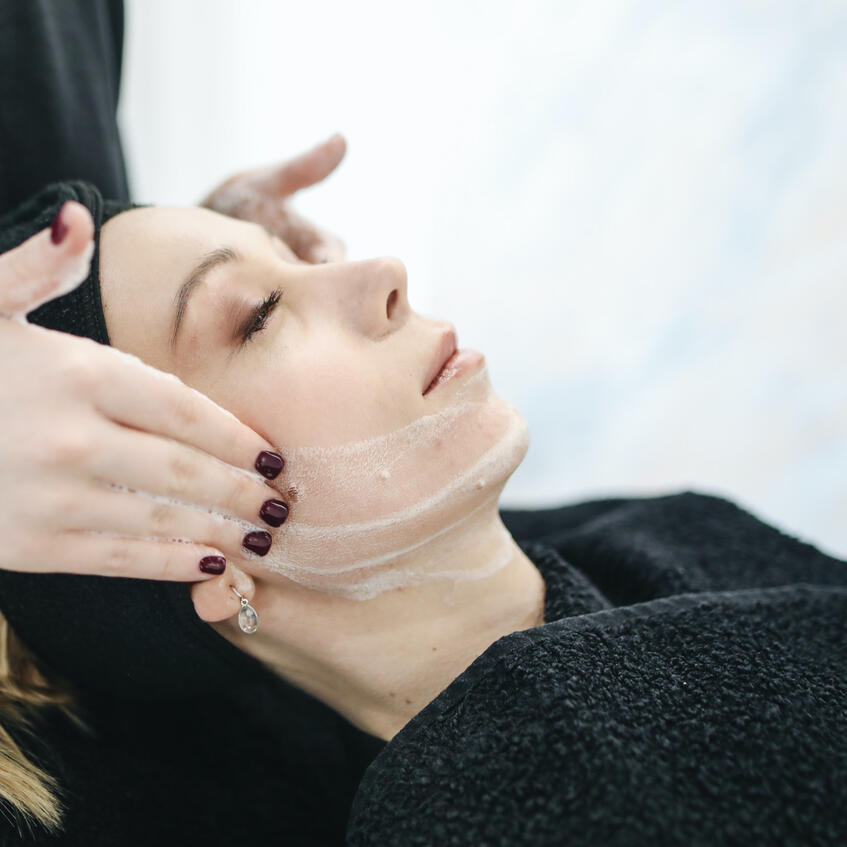 Glycolic
Facial
Benefits All Skin Types
A very popular service here at the salon since it includes not only a facial but a glycolic peel as well. The first step is steaming and deep cleansing the skin. The use of the glycolic solution will exfoliate and remove layers of dead skin cells that contain pigmented spots, while resurfacing the skin. It also helps reduce its dull & tired appearance. Then a gentle facial will follow making this an even more enjoyable and relaxing experience. Your skin will be rejuvenated with immediate results; younger, brighter looking, with a more vibrant complexion.*Please Note: All facials are focused towards skin rejuvenation & cleansing the pores. Extensive massages of feet, hands and scalp are not performed in our salon.
Duration: 1 hour and 15 minutesNeed a boost? Add a customized layer or two from our AnyTIme Peel
$20+$140Eye Treatment Add-on $15
Lip Treatment Add-on $15
Oxygen Infusion Add-on $20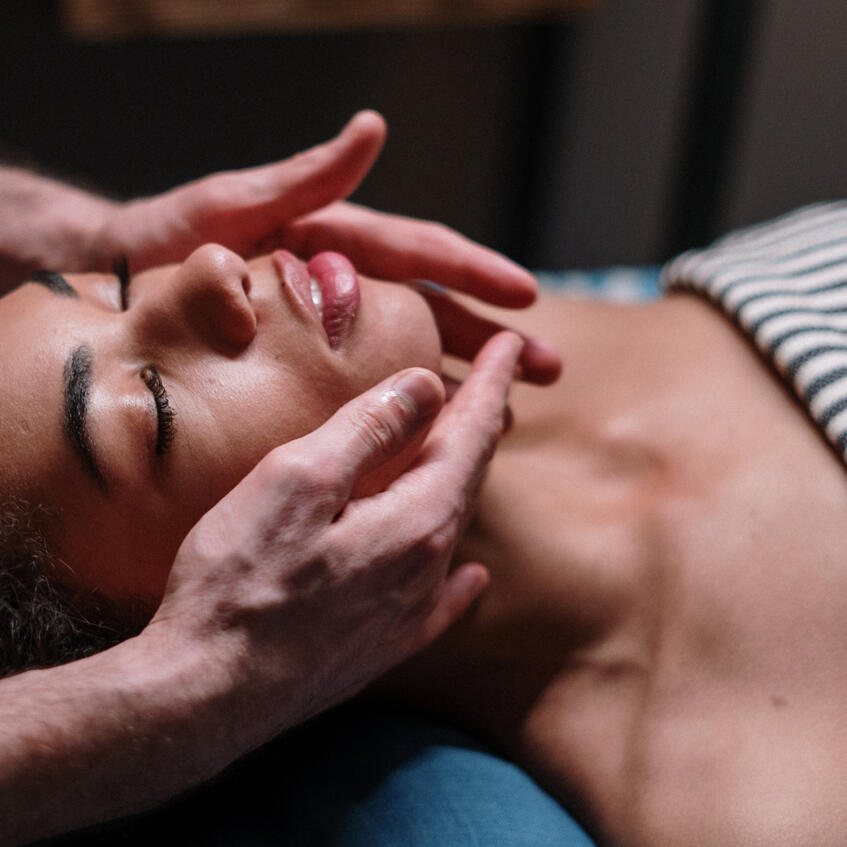 Signature Extra Moisturizing Anti-Aging Facial
Benefits All Skin Types, Especially Dry, Rough, or Mature Skin
This signature facial includes steam and deep pore cleansing along with a light glycolic peel to exfoliate layers of dead surface cells. Enjoy 90 minutes of pampering and relaxation while your skin is rejuvenated and energized. Steam, deep cleansing, and exfoliation, followed overall and targeted extractions. High Frequency is used to stimulate blood flow, purify, and oxygenate the tissues. Then, a blend of liposomes, vitamins and collagen is infused and massaged into the face, and neck. A blend of complex active ingredients are infused and massaged into the face and neck to restore the skin tone and elasticity. Focused eye and lip treatments are followed with a mask chosen specifically for your skin needs, serum, toner and moisturizer will finish this facial. Immediate results: smoother, supple, firmer, softer and highly moisturized skin.*Please Note: All facials are focused towards skin rejuvenation & cleansing the pores. Extensive massages of feet, hands and scalp are not performed in our salon.
Duration: 1 hour and 30 minutes
Add A Boost with our AnyTime Peel layer
$20+
$180
We are proud to offer a variety of customized facials tailored to your specific skin type and needs.From mature, troubled, dry, rough, or congested skin, we use the highest state-of-the-art tools and procedures to pamper your skin at the deepest level. With over 6 types of treatments to choose from, you are guaranteed to find the perfect one.
Acne Treatments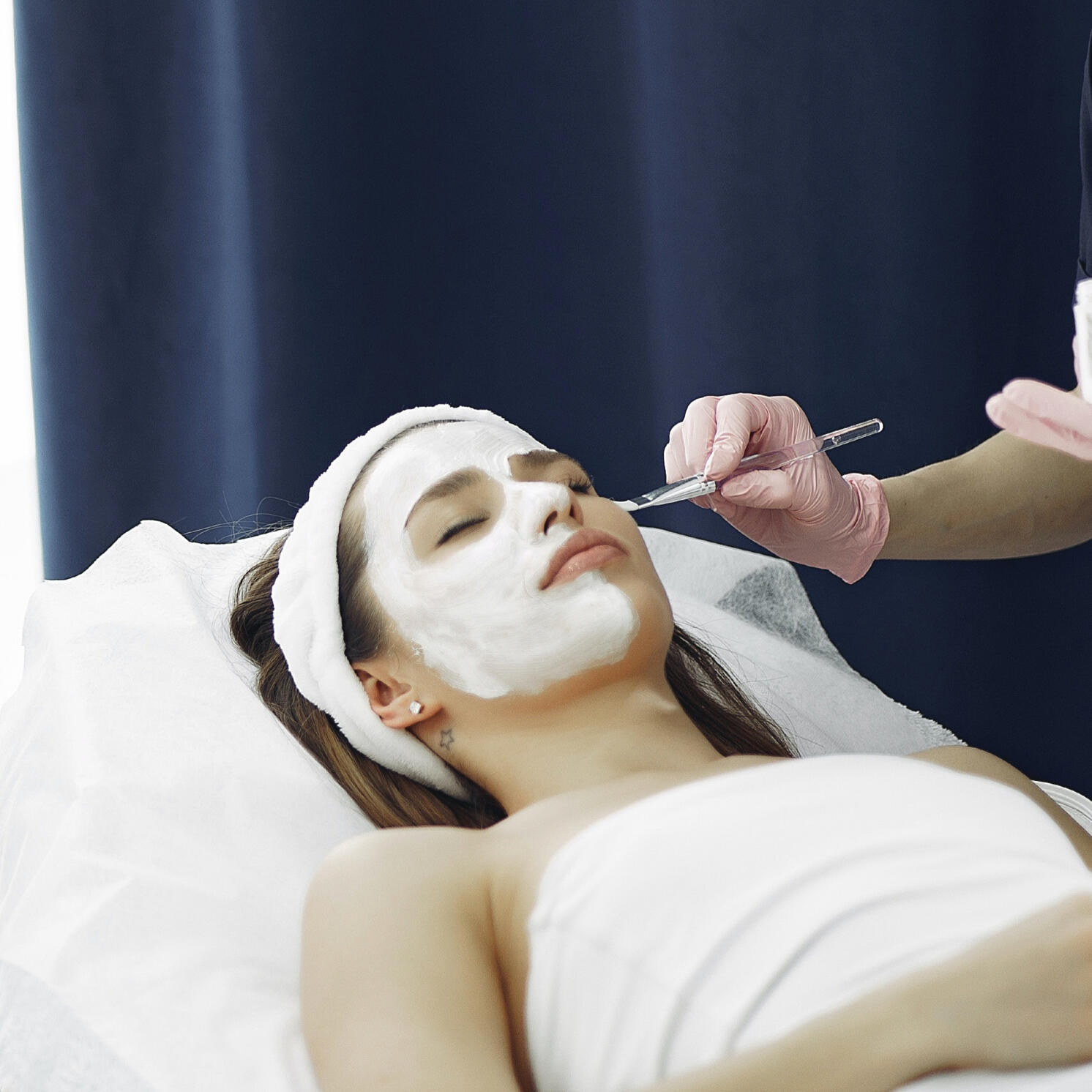 Signature Acne Treatment
Benefits Adults & Teenagers with Mild to Moderate Acne
Includes steam and deep pore cleansing followed by a blend of glycolic and lactic acid solution which exfoliates and removes accumulated skin cells inside the oil gland to unclog pores. Blemishes, such as blackheads, and whiteheads will be removed – all under the most sanitary conditions. High frequency is then used to purify and oxygenate the tissues, and aids in the healing of the skin. Afterwards an anti-inflammatory and soothing lotion will be applied to the skin followed by a mask toner and moisturizer.
Results: Control acne breakouts and decrease the amount of redness associated with pimples. Skin will be clearer and smoother with a healthy glow.*Please Note: All facials are focused towards skin rejuvenation & cleansing the pores. Extensive massages of feet, hands and scalp are not performed in our salon.*Strength of the peel will be evaluated depending on the skin condition.Five Treatments recommended, one every two weeks.For severe acne & quicker results: Add 1 Coat Jessner Peel Solution $35+
or Add a Layer of one of our AnyTime Peels
$20+Duration: 1 hour and 30 minutes$150Eye Treatment Add-on $15
Lip Treatment Add-on $15
Oxygen Infusion Add-on $20
Acne is an incredibly difficult experience. We're here to make it easier.Our treatments are designed to directly target, nourish and soothe acne-prone skin, especially adults and teenagers struggling with mild to moderate acne.
Peels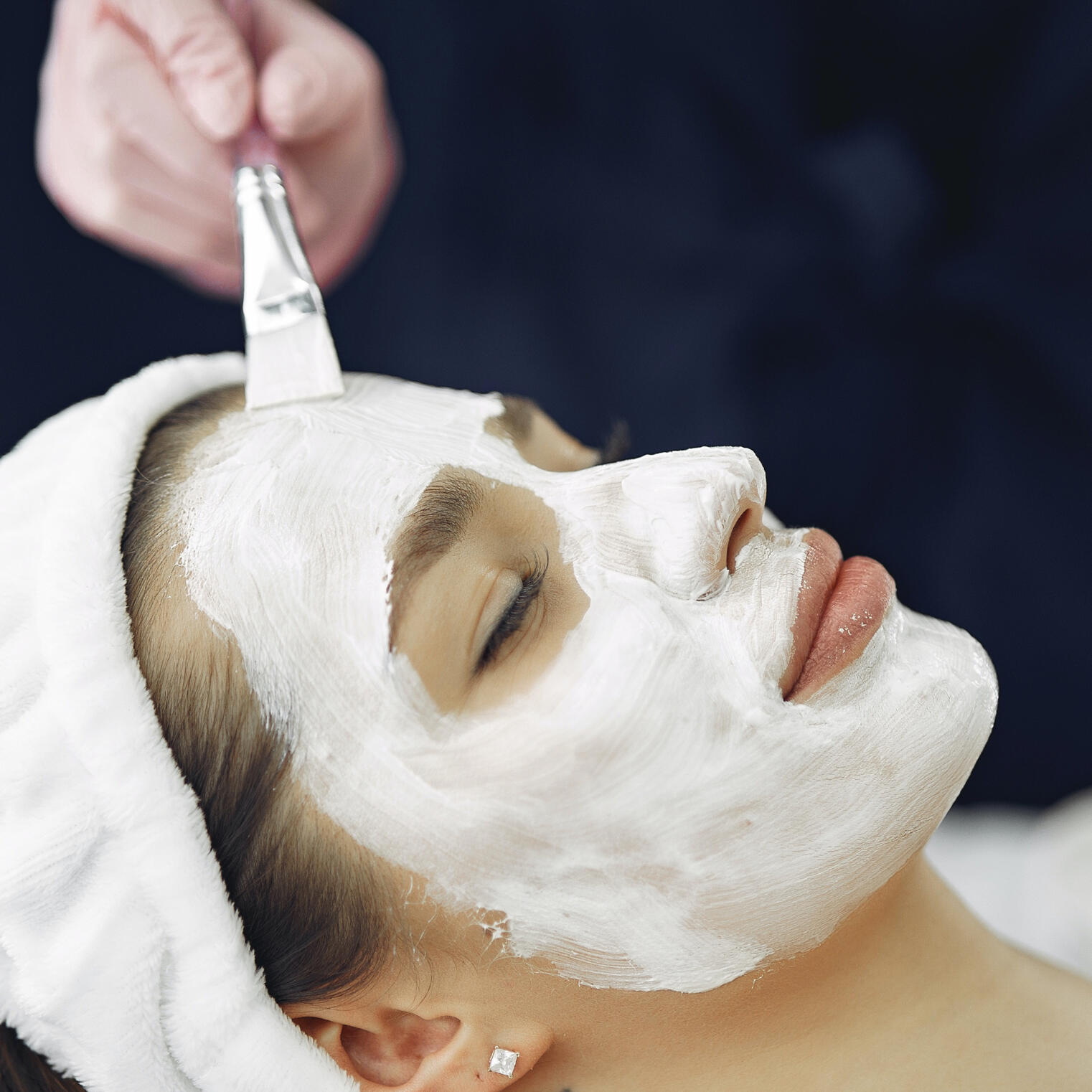 Jessner Peel
Benefits All Skin Types
This is a highly acclaimed medium-depth peel which sheds off layers of skin instantaneously, removing surface pigmentation and sun damage. You'll experience dramatic results with a much smoother texture, brighter and healthier looking appearance.Duration: 45 minutesHow to prepare for your Jessner Peel appointment:
- Please come with a clean face if possible. Be sure you are not using retina or retinol for at least a week prior to your treatment. Not safe to perform on people taking accutane. Stop all chemical and enzyme exfoliants 1 week before your appointment.
- *For men: do not shave 3 days before treatment.After-peel kit also included ($60 value)$285 TotalCall us or Message Us for any questions regarding this peel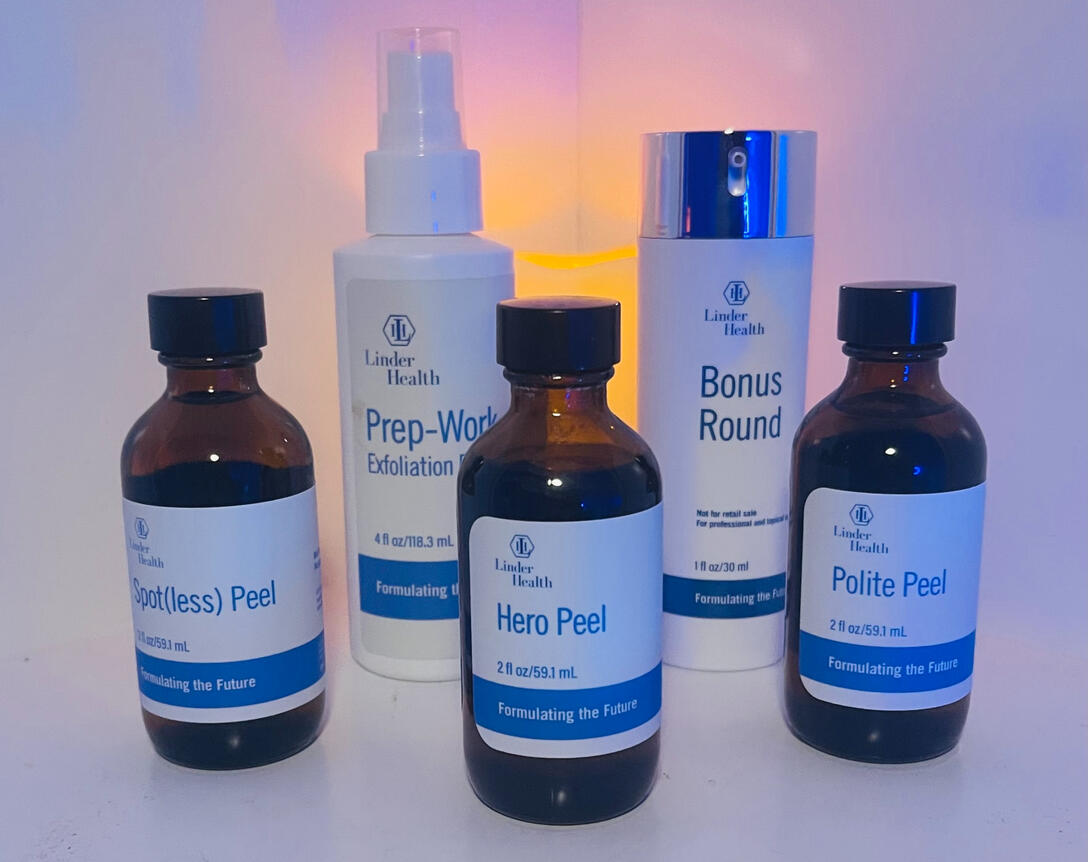 AnyTime Peel
Suitable and Benefits All Skin Types, Skin Tones, and Skin Conditions
This proven line of peels from Linder Health are created to be used on all skin types and Fitzpatrick scales. No matter the skin condition these peels can be used to help increase cell turnover and regeneration. With the ability to control the amount of layers and depth this peel can be done year round with little downtime to fit into your active lifestyle. Giving you beautiful results, the ability to move at your pace and room to grow in your skin journey.
Not safe to use with accutane or 6 months after accutane treatmentDuration: 45 minutes or as an add on to existing serviceHow to prepare for your AnyTime Peel
- Stop all exfoliating products at least up to three days before service
- Book at least one appointment prior to booking the peel to ensure best results
- * For men: do not shave 3 days prior to service$95.00 standalone service
$20.00 add-on to any service (when approved by service provider)Call or Message us for any questions regarding this peel
Resurface and reinvigorate your skin with one of our signature peels.Our peels will gently and effectively remove dull and deal skin to reveal glowing, youthful radiance underneath.Whether it's your first time receiving a peel or you are a pro we have you and your skin covered. Working with you both Pre and Post Peel, we can help you no matter where you are on your skin journey.
Waxing
or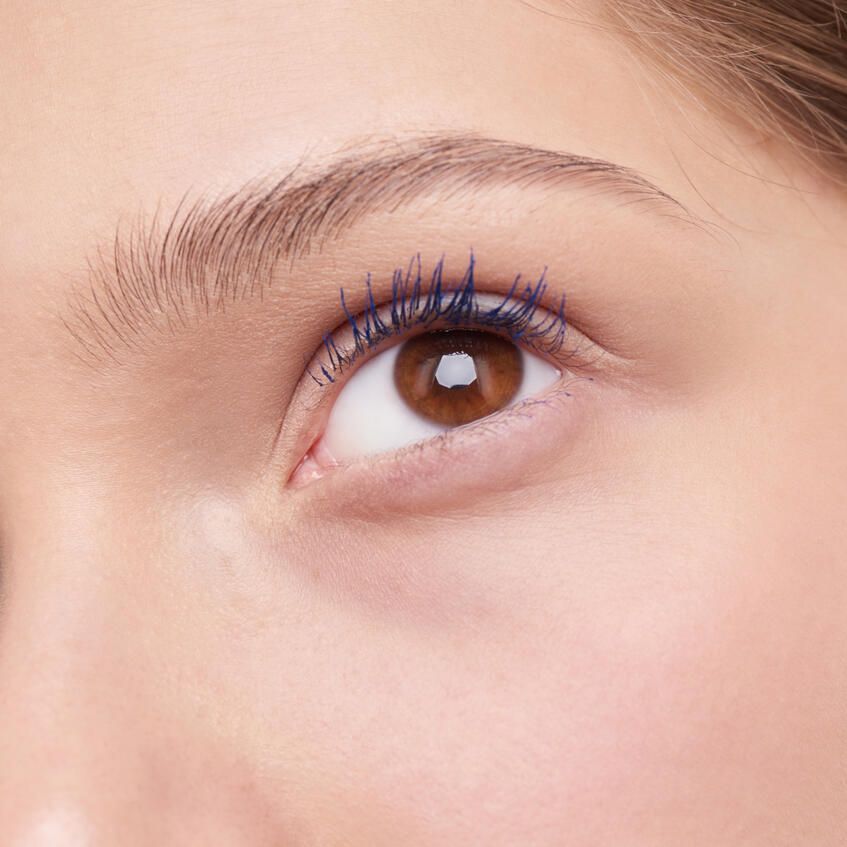 Eyebrow Wax
$35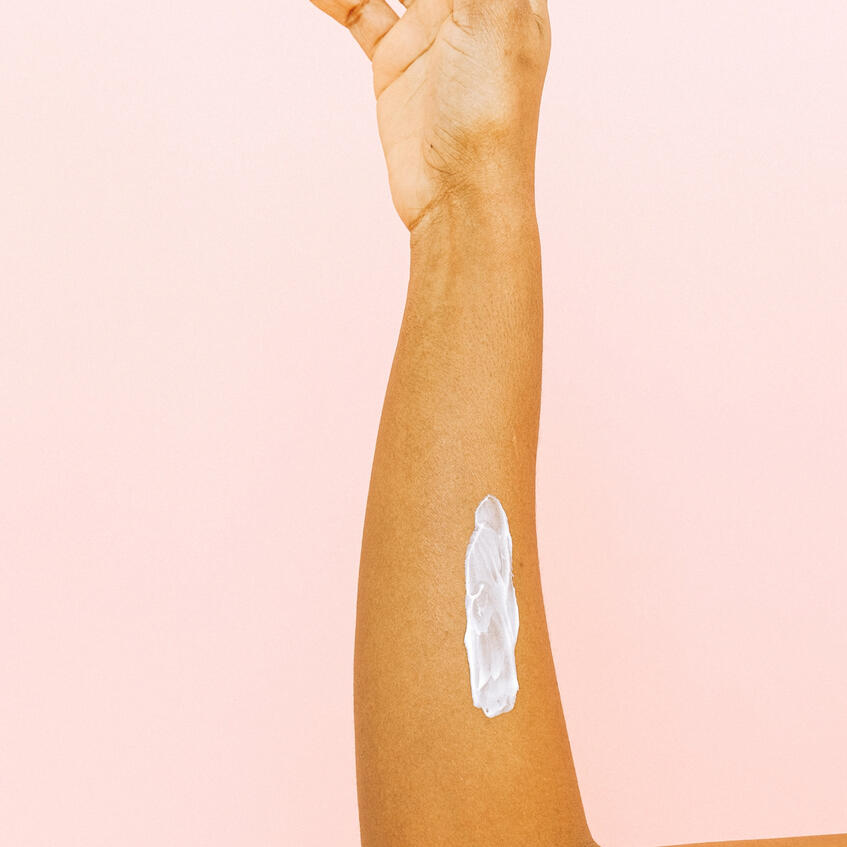 Underarm Wax
$35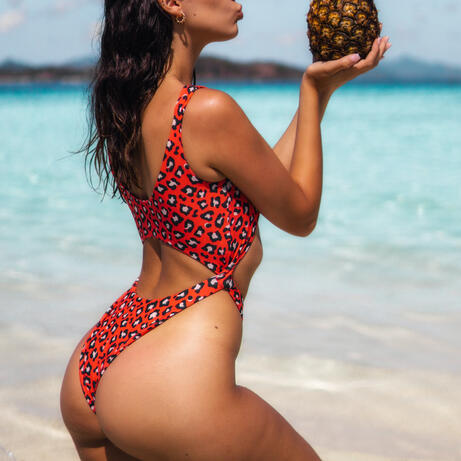 Bikini Wax
$70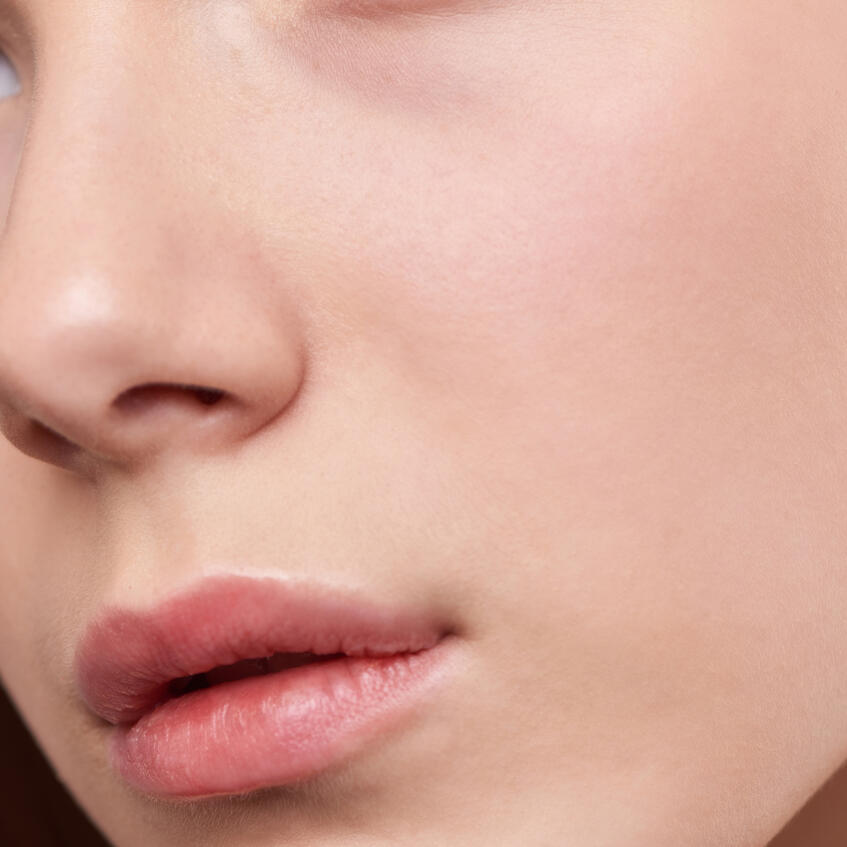 Lip Wax / General Nose
$25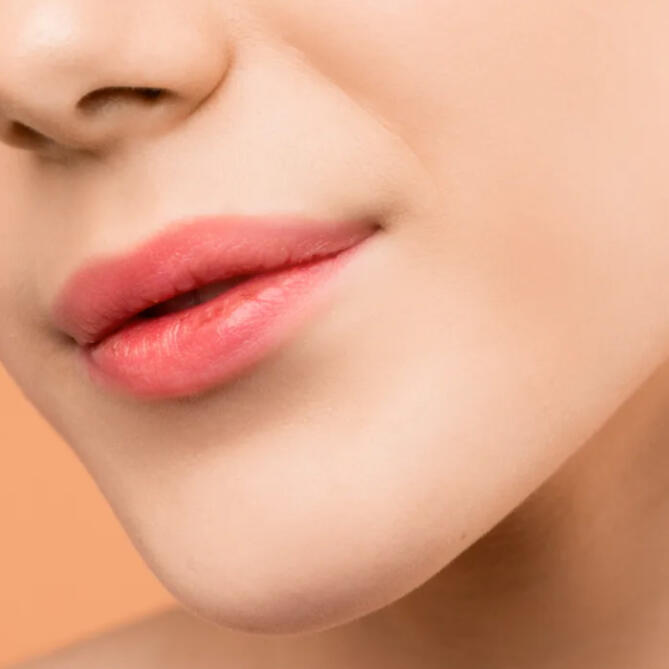 Chin Wax
$27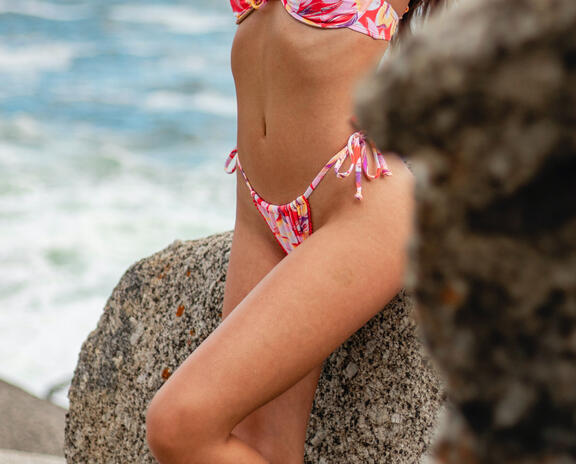 Brazilian Wax
$80
COVID Procedures- Safety is #1
We Are Here For You
We are passionate about taking the utmost precautions to protect our clients, our team and our community in all capacities.As the landscape continues to evolve, we are taking every measure with extensive sanitation, sterilization, and disinfecting protocols mandated by the CDC as well as our regulating body, California State Board of Cosmetology and Barbering. At Aquarius Skin and Body you can feel completely at ease knowing that we are constantly on top of the latest proven methods. We are so grateful for your continued support and trust in us.
What to Expect
Bookings are spaced apart to mitigate your contact with other clients in our space, and we stagger appointments to allot plenty of time for deep cleaning of treatment rooms between each service.These effective measures allow us to ensure the health, safety, and peace of mind of everyone that walks through our doors. Because after all, our services are about making you look and feel amazing from the inside out. We value your health above all else.In addition to our already rigorous cleanliness standards, these principles include:
- A heightened Deep-Cleaning and Sanitization Process
- Hand sanitizing stations located throughout the space in high-touch areas
- Sanitizing wipes are available for high-touch areas
- Increased frequency of sanitizing high touch areas
- Stringent cleaning and sanitizing protocols will be used to clean client rooms
- Service rooms will be cleaned prior to each client arrival
- Integration of online bookings and payment engagement platforms for contactless requests and inquiries
- All team members receive mandated training on COVID-19 safety, sanitation and response procedures
- All team members will be provided with masks, gloves and protective eye wear as required while continuing to provide exceptional servicesWe look forward to welcoming you soon and thank you for your continued loyalty and support.
Spa Specials & Packages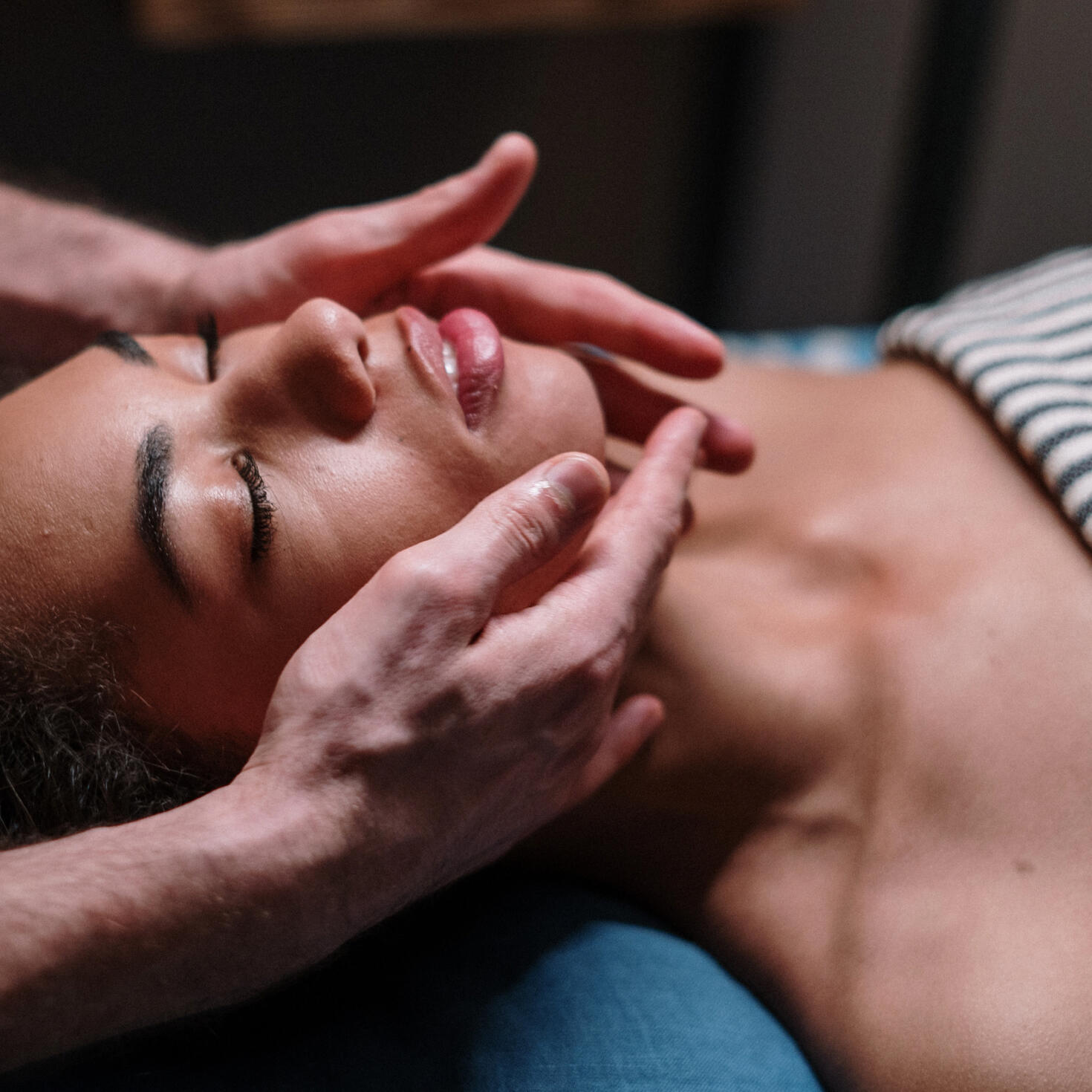 Facial Special
For the whole month only:20% Back FacialsIntroducing Linder Health AnyTime Peel$95.00 stand alone
$20.00 add-on to facial services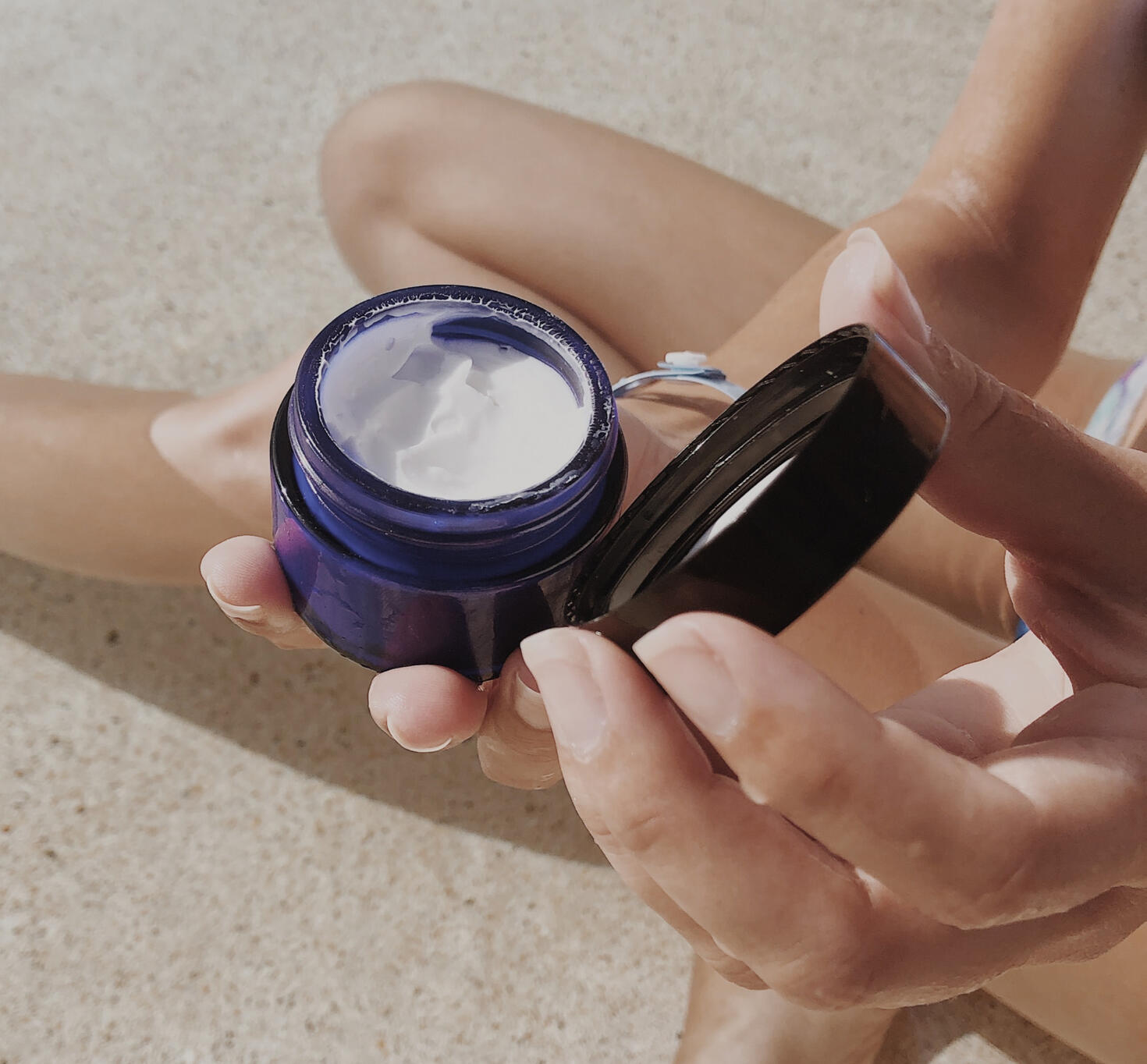 Product Special
No Product Specials at this Time but please follow our Socials for any updates
---
Special Discounts for ClassPass Users
We're offering private discounts to all new customers that find us through ClassPass!First time booking with us after using ClassPass?? Receive 20% off first service booked directly through us
Glycolic Facial
- Only $140
Signature ExtraMoisturizing Anti-Aging Facial
- Only $170
Jessner Peel
- Only $265
Signature Acne Treatment
- Only $150
Back Acne Treatment
- Only $140
The Team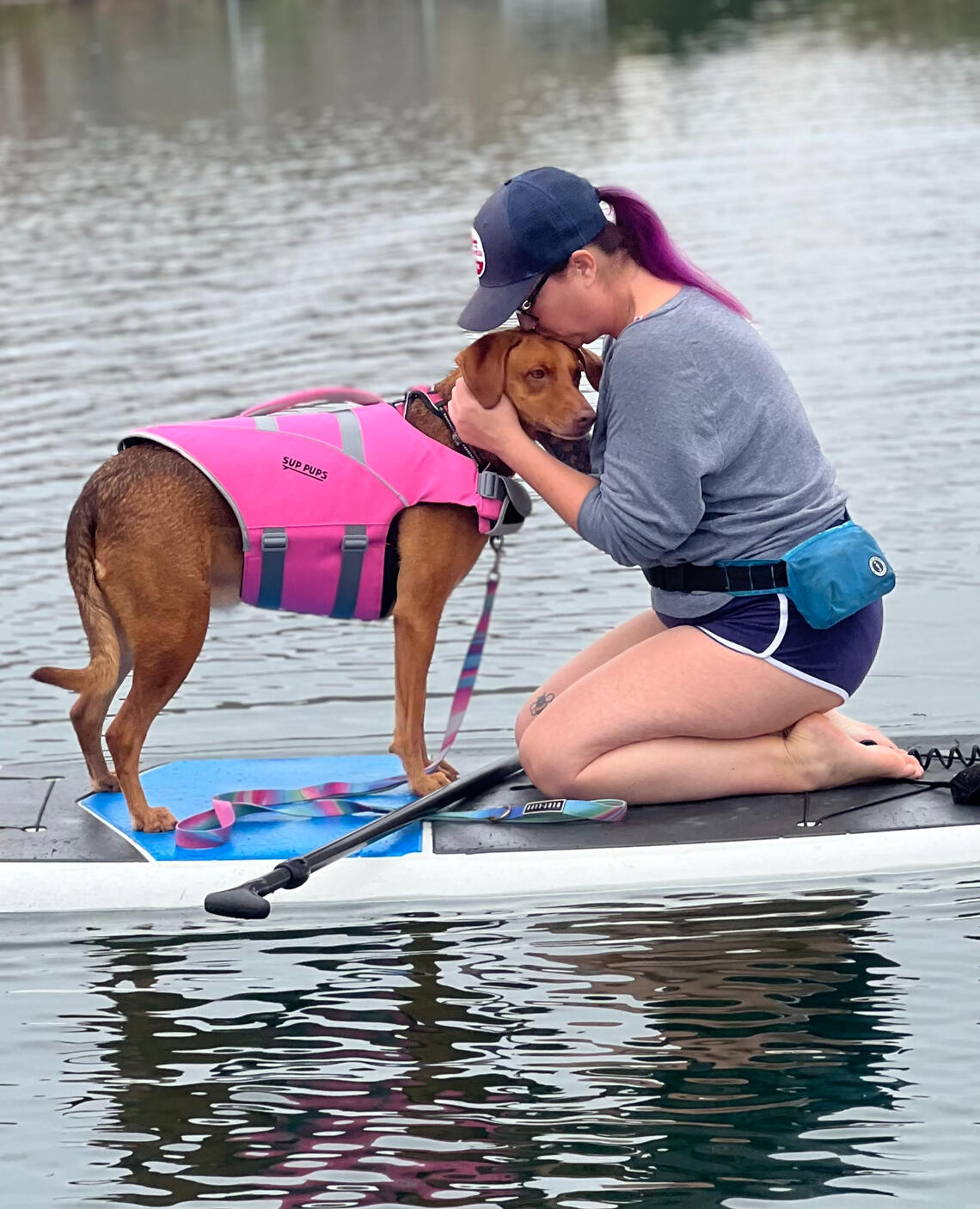 Jessica Ballow
Owner/Esthetician
Hello all! I couldn't be more thrilled to be the owner of our small but mighty skin care shop.Jessica's Background and Experience:
I have been working as an esthetician for almost 10 years, starting off my career being trained by an exceptional esthetician from Germany who has been in the industry for over 25 years. We specialized in anti-aging, acne and chemical peels with microdermabrasion as wells layering peels with other modalities. So I am extremely comfortable with all forms of exfoliation and love using that to help clients get the skin they deserve. I've worked closely with clients and doctors to help their skin through traumatic experiences and love being able to help others feel good about themselves not matter where you are in your skincare journey. I dipped my toe in the spa world for a few years at the same I was working independently and saw a place for both calming vibes and results in one spot.
When I purchased the business is 2021, after working with the previous owner for three years I had a vision in mind to offer results driven skincare in a unique and relaxing space. Pulling from my extensive spa experience as well as my science driven mind I hope you feel relaxed and can melt your day away while I do my thing and make you glow.Life Motto: "Progress not Perfection"Hometown: San DiegoHobbies:
When I'm not working and trying to make everyone smile a little more I enjoy hiking, playing tennis, paddleboarding and spending a lot of time at the beach with my dog Leia. She is what makes me smile everyday. I lived in the Appalachain Mountains for 12 years but have always been a California girl at heart and couldn't wait to come home to San Diego.Special Skills:
I feel that a special skill I possess is being able to help make people comfortable in even uncomfortable positions and our skin is very personal and sometimes can effect us in ways we never knew.What I LOVE about what I do:
Being able to be part of such a great industry allows me to truly do what I love, helping people. I love being able to help people feel good about their skin and good about being in their own skin and have been working as an esthetician for over 9 years and in the service industry for just under 20 years. I love helping people get that glow both inside and out. It gives me pride in helping others see through the imperfections and love who they are.I look forward to meeting you and helping you achieve the skin you want and deserve.
Leo Libreros
Certified Myofascial Release Structural BodyWork TherapistA little about Leo
Leo is a Certified Myofascail Release Structural Body Work Therapist who calls two places home, San Diego and Palm Springs. Leo specializes in the restoring body freedom of movement, proper alignment and balance through advanced bodywork.
If you need help resolving neck pain, back pain, whiplash, TMJ, carpel tunnel, hip pain and even plantar fasciitis then Leo is your man.
He graduated from Maric College in Palm Springs, Ca. In addition he has studied different techniques that treat the fascia system of the body in order to include this structures in his work.
Leo understands the patients '
viewpoint because he started his journey as a patient himself. Making the choice to embark on a healing process is vital to live a full happy life. He will be truly committed to your health and well being and will provide the best care to assist in the healing of your pain or injury.
Leo books all his appointments through his website and can be reached for any questions through his email.www.advancedbodywork.bizadvancedbodyworkbyleo@gmail.com
---
Contact Us
Phone:
(619) 929-4817
---
Send Us a Message:
---
Location
2180 Garnet Ave. Ste 1-D
San Diego, CA 92109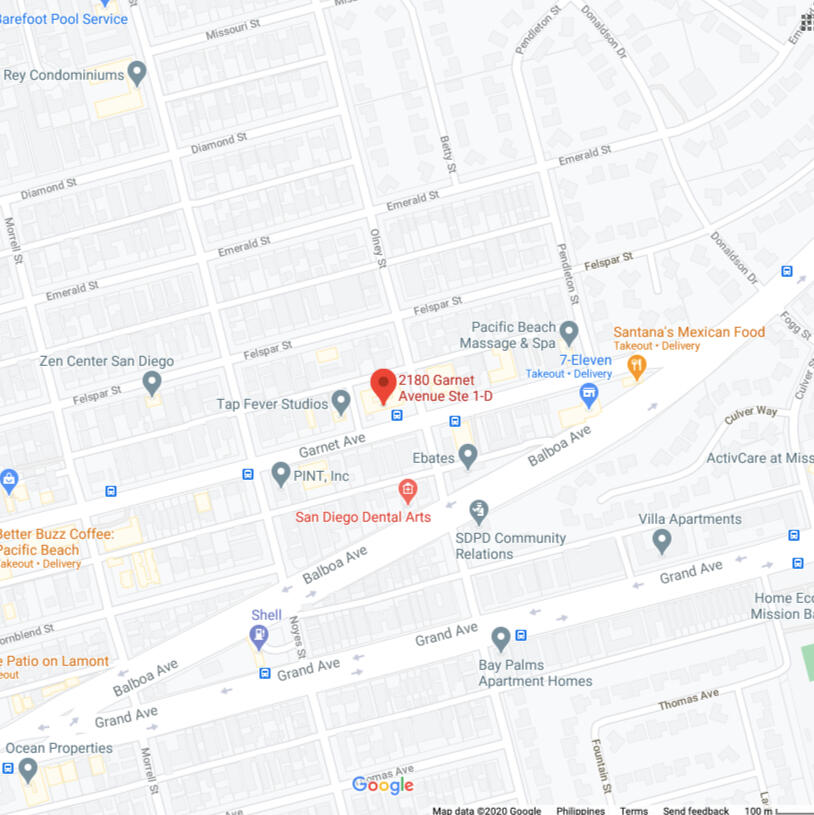 Hours:
Tuesday, Wednesday, Friday
9:00am - 6:00pmThursday 12:00pm - 6:00pmSaturday
9:00am - 5:00pmSunday and Monday
Closed